Acrilux an Italian industrial group,
founded in 1912 by Fratelli Guzzini.
A rather unique history which began with the production
of articles made from ox horn and characterized by
the subsequent use of synthetic materials,
such as acrylic and polycarbonate.
This is the story of the development and ongoing technological research that has led the company to master all there is to know about thermoplastic components.
Acrilux was founded 1966 and has developed in this cultural and industrial context: a wealth of experience is what has led the company to an extraordinary level of knowledge of plastics and its uses. For more than fifty years, Acrilux is active in the manufacture of thermoplastic components for the lighting industry and today is a bench mark in the technology of injection moulding, injection-blowing moulding and thermoforming.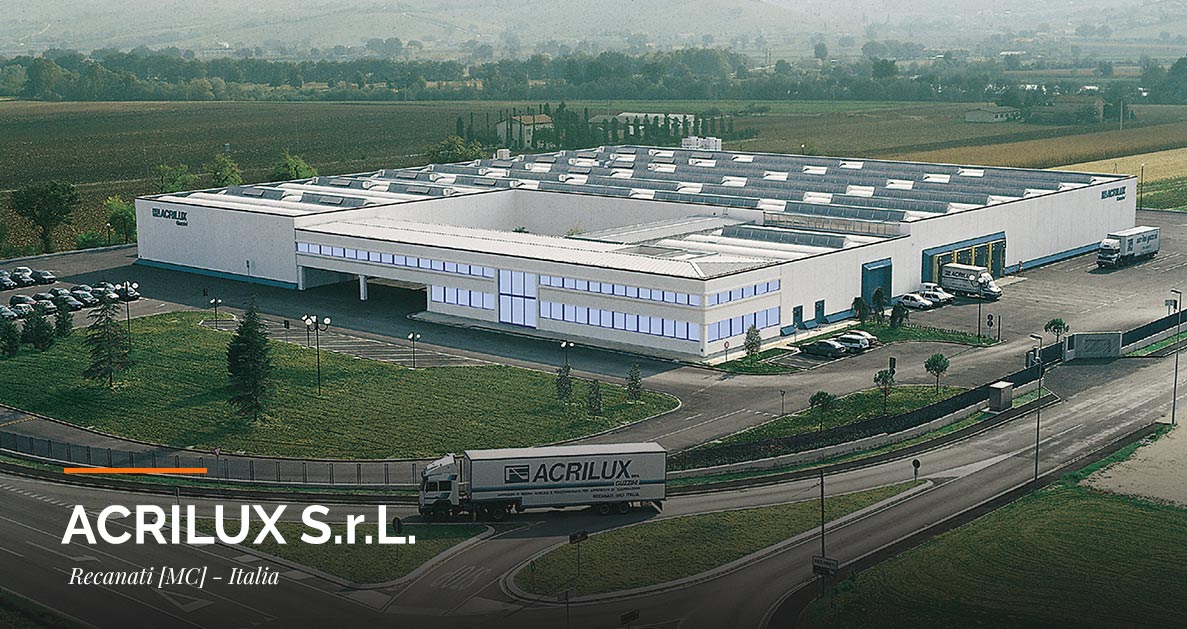 Production
Acrilux primary goal has always been to offer a top quality product, manufactured by using the most advanced technologies. In the late seventies Acrilux introduced an important technological innovation, the moulding of hollow forms by injection / blow moulding.
Acrilux production is currently divided into the following product sectors:
1. the complete range of globes and shapes with related supports and accessories;
2. prismatic refractors;
3. a comprehensive range of fully enclosed units;
4. one piece injection moulded diffusers and prismatic controllers.
Be they globes, refractors or enclosures Acrilux products are manufactured in compliance with the highest quality standards.
Acrilux is ISO 9001:2015 certified.
Flexibility and partnership
Good customers relations and services are highly valued as an integral part of the Acrilux policy: consistent with tthis policy many partnerships have developed over the years.
The industrialisation of custom made projects is of vital importance: a deep-rooted team with external designers and partner companies allows for projects to be optimised in perfect harmony with the manufacturing goals.
This is how individually the most appropriate solutions are achieved in order to meet the operational requirements of the world luminaire manufacturers.
2020 Quality Policy
ACRILUX applies its expertise in the field of thermoplastic components for the lighting industry, continuing to research the use of materials which, applied and used innovatively, have made made ACRILUX products a great success on both national and international markets.
ACRILUX is certain that the winning hand when it comes to remaining among the top-flight companies and to continue along the growth path undertaken over recent years is to continue to invest in:
• Technology;
• Human Resources.
The Board of Directors at Acrilux srl strongly believes in continuing along this route, consolidating the company's market position, strengthening the solid roots that link the company to its local territory and pursuing sustainable profits.
The qualifying points in our quality policy are:
1. The customer always comes first: strengthening collaboration with our customers, offering services of the highest value, through promptness and excellence;
2. partnership: developing partnerships with major suppliers with an eye to technical innovation
3. organisation: research into improvements regarding work organisation, focusing on flexibility and professionalism within the workforce;
4. territory and the environment: respecting the work environment and legislation, as well as providing services while maintaining excellent relations with the local community;
5. quality: providing services with excellence to be sure of exceeding customer expectations;
6. value of capital: optimising and improving economic and financial results to be able to continue to invest in resources;
7. continued improvements: circulating and practising a culture of continued improvement at every level within the organisation.
To make sure that company policy is understood, implemented and supported at all levels, the Board of Directors, as well as making it available on the company noticeboards, has made a document available to all department heads and operating personnel containing the policy and its specific aims.
The Board of Directors has also circulated the company's quality policy, posting it on the company website.
In a system designed this way, training and awareness raising among department heads and those working under them are essential, with specific, systematic courses on the subject of quality and mentoring for newly employed workers.
The Board of Directors also implements constant and regular checks of the correct application of management procedures, work instructions and the quality policy in every areas of the company, through internal inspections and specific audits.
The efficiency and effectiveness of these processes will be kept under constant control via systematic analysis of through systematic analysis of quality data and performance.
The Board of Directors