Acrilux an Italian industrial group,
founded in 1912 by Fratelli Guzzini.
A rather unique history which began with the production
of articles made from ox horn and characterized by
the subsequent use of synthetic materials,
such as acrylic and polycarbonate.
This is the story of the development and ongoing technological research that has led the company to master all there is to know about thermoplastic components.
Acrilux was founded 1966 and has developed in this cultural and industrial context: a wealth of experience is what has led the company to an extraordinary level of knowledge of plastics and its uses. For more than fifty years, Acrilux is active in the manufacture of thermoplastic components for the lighting industry and today is a bench mark in the technology of injection moulding, injection-blowing moulding and thermoforming.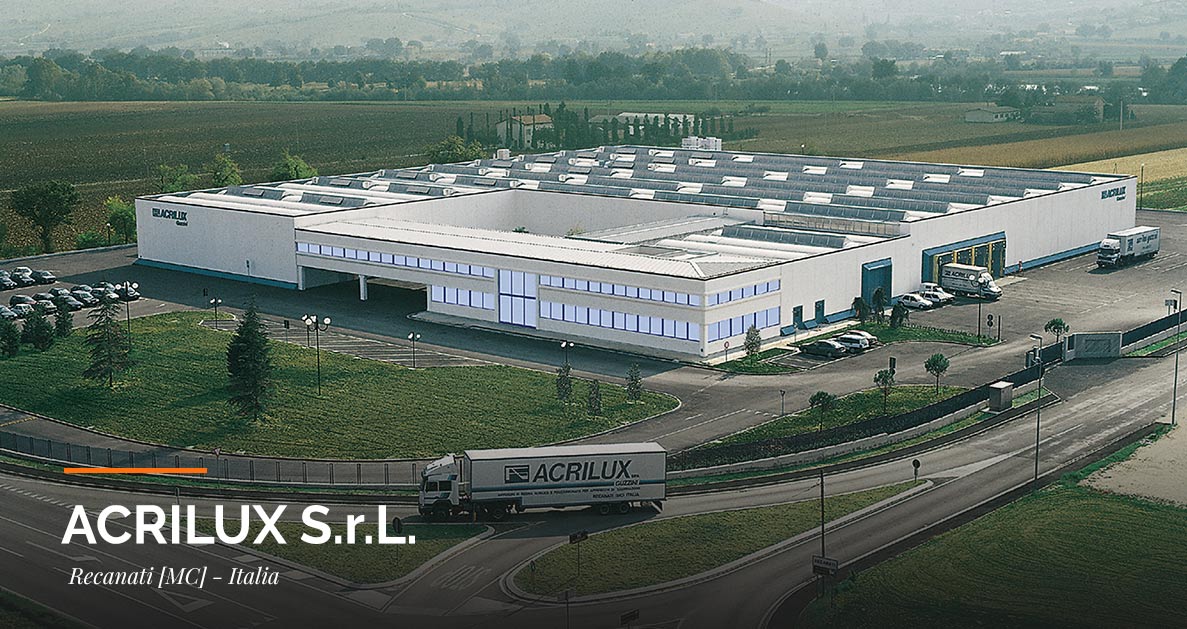 Production
Acrilux primary goal has always been to offer a top quality product, manufactured by using the most advanced technologies. In the late seventies Acrilux introduced an important technological innovation, the moulding of hollow forms by injection / blow moulding.
Acrilux production is currently divided into the following product sectors:
1. the complete range of globes and shapes with related supports and accessories;
2. prismatic refractors;
3. a comprehensive range of fully enclosed units;
4. one piece injection moulded diffusers and prismatic controllers.
Be they globes, refractors or enclosures Acrilux products are manufactured in compliance with the highest quality standards.
Acrilux is ISO 9001:2015 certified.
Flexibility and partnership
Good customers relations and services are highly valued as an integral part of the Acrilux policy: consistent with tthis policy many partnerships have developed over the years.
The industrialisation of custom made projects is of vital importance: a deep-rooted team with external designers and partner companies allows for projects to be optimised in perfect harmony with the manufacturing goals.
This is how individually the most appropriate solutions are achieved in order to meet the operational requirements of the world luminaire manufacturers.